Cycling in Killarney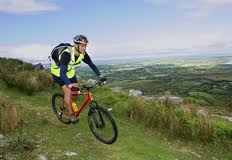 While cycling in Killarney why not stay here with us at the 19th green Guesthouse you are at one of the best locations to explore all of Killarney's Cycling routes and trails
As we all know over the past number of years outdoor activities have become a big part of all our lives and cycling has become a National obsession
Here at the 19th Green bed and breakfast we have gathered all the information you need for your cycling in Killarney holiday break and we  can help you in any aspect of you're cycling break.
We work very closely with all our partners at Killarney Rent a Bike and Killarney Bike Rental so we can have your bicycle already organised for you before you get here.  If you bring your own bike we have secure gated storage to the rear of the house.
It is fair to say that for a leisurely day out it is hard to beat cycling in Killarney going around our beautiful National Park.  There are numerous cycling routes around Killarney and many designated tar covered cycling paths.
A high light in cycling in Killarney around National Park is taking a round trip to the Gap of Dunloe.  This is not a usual type of cycle route but it is a most enjoyable one.
If you decide to cycle around the National Park via Muckross and Torc Waterfall and then back through the Black Valley and the Gap of Dunloe you can expect to cover a worthwhile 45km.
You can choose a more Leisurely Cycle Route in  Killarney
You can choose a more leisurely route and take a boat from Ross Castle through the Meeting of the Waters to Lord Brandons Cottage and cycle the most breath taking route in Killarney through the Black Valley a rather steep climb onto Molls Gap and then for a downhill jaunt back into Killarney town.
When you are with us at the 19th Green guest house you are actually on one of Killarney most scenic cycle paths – The Fossa Way. From our front gate you are on a loop that takes you along the Deenagh River, over the Cnoc Na Ri viewing point with the spectacular views of Lough Lein and the Mac Gillacuddy Reeks  Mountains as a back drop.
Should you wish to venture further afield while staying at the 19th Green guest house there are numerous options for cycling in Kerry – The Dingle Peninsula is a 42 km cycling route in Kerry taking in Sleah  Head, Ventry and Dunquin – a marvellous cycle
For the more athletic amongst us there is always the annual Ring of Kerry Cycle which is now a worldwide recognised fund raising event for lots f charities.  This 110 mile cycle can be done at your own pace and once registered you can start at any time of the day.  And would you believe it – Yes we are on the route so while staying with us all you have to do is "Get on your bike and go"
So why not give us a call if you decide to come to cycle in Killarney.