The Residents Lounge:
This is one of our favourite rooms in the house. Our aim here is to have a snug, warm room where you can relax.  The open fire, leather couches, T.V., soft music, magazines, books,  a deck of cards and board games are all there for your enjoyment.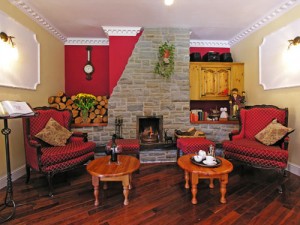 Bring your own wine or beer, we have the glasses and ice so its up to you to relax. And if you don't want to leave the fire or the movie, let us order in your food.  we will provide a cup of tea or coffee for those you don't partake……       The only rule is " He who is closest to the fire, stokes the fire"     
Oh! by the way the last one to bed, turns off the lights and don't forget to bring your shoes.